JuiceheaD "Covered In Blood" LIVE CD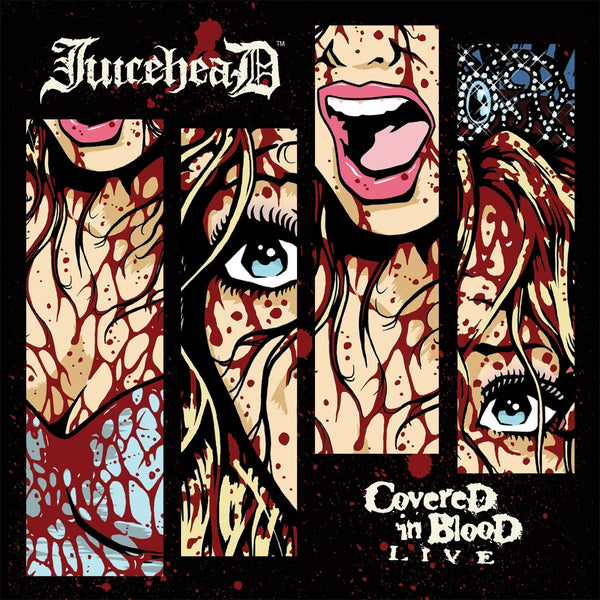 JuiceheaD "Covered In Blood" LIVE CD
Get "Covered in Blood"…with JuiceheaD
The latest full-length from Chicago's new school power-punk outfit debuts three all-new studio tracks—and the band's first-ever live release in one high-octane package!
Includes a newly recorded studio redux version of all-time fan favorite "Covered in Blood" Produced by John Cafiero (Misfits, Ramones, Osaka Popstar). Also features two sweltering live covers (Billy Bragg's classic "To Have and to Have Not" and Operation Ivy's "Knowledge"), encompassed within a stripped-down, super-charged live set of favorites from JuiceheaD's studio catalog. Followers of the band and newcomers alike will be launched into ear bleeding abandon by the buzz-saw guitar/vocals of JuiceheaD frontman Rob Vannice. Wrapped in eye-popping, jaw-dropping packaging featuring artwork by Texas rock illustrator Billy Perkins (Cheap Trick, Arc Angels, Crazy 4 Cult). Misfits Records unleashes 14 never before released tracks in one blood splattered sitting!
All orders receive an instant MP3 download of the track "Covered in Blood (Redux)."
Track Listing:
1.) Rotting from the Inside (Live)
2.) Open Sore (Live)
3.) Better Days (Live)
4.) Lorraine (Live)
5.) A Fire that Always Burns (Live)
6.) To Have and To Have Not (Live)
7.) Internal Bleeding (Live)
8.) Knowledge (Live)
9.) Long Way Down (Live)
10.) Covered in Blood (Live)
11.) Death of Democracy (Live)
Bonus Studio Tracks:
12.) Covered in Blood (Redux)
13.) Where Will I Go?
14.) Covered in Blood (Reprise)